Thank You Santa
From the homeless dogs at Rescue
Dear Santa,
Thank you so very, very much, Santa, for all the wonderful gifts and treats you delivered to us again this year!! To be honest with the Pandemic and such we did not expect anything!! As you know some of us have never had a Christmas before, let alone received all the wonderful gifts and treats we found again this Christmas! Some of the dogs lives have been such that they really did not believe in you! Thank you Santa for showing them that you do exist but even more that you care about all of us no matter what breed, color or sex! We want to say a special thank you for the smelly chew toys and treats for Aubrey. Although we are sure at one time she loved all toys right now she needs things she can smell in order for her to find them. And Santa, please keep Aubrey in your prayers she is struggling being blind and she is such a sweet little lady. We also want to thank you for remembering Wynter, Jazzy and the other little dogs that live here!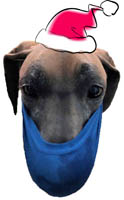 Hopefully, all of the dogs available for adoption will have the ultimate gift in the New Year and receive forever homes!! That is really all they wanted this year but, hey, toys and treats are a close second!
We would like just 1 more gift please and yes we ask for this every year, Santa, that people stop buying puppies from Backyard Breeders, Pet Stores, and any Breeder that is not responsible for the puppies they breed, for the entire life of that puppy! Yes we asked for this last year and we will continue to ask until people stop buying and adopt the homeless! On Christmas, while we were playing with our new toys, we heard Grandma's frustration as she had to again talk to someone who wanted to bring their Dane to the Rescue, they had gotten a new puppy and no longer wanted last year's Christmas puppy!! This Christmas Grandma had over 20 calls from people wanting to dump their dogs! We hope that Owners become more responsible and train their puppies/dogs. A trained dog is a good dog!! People need to realize that puppies are puppies no matter what breed. Puppies chew, puppies tear things up... the difference is a Dane puppy does more damage than a Chihuahua puppy!! We are dismayed when we hear from someone who is surrendering their dog that a 1 year old Dane was not a Gentle Giant like the book said!! REALLY PEOPLE, do you believe everything you read? I am sure they do after all they saw it on the internet!!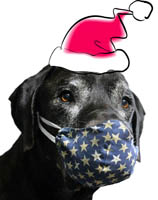 Oops, sorry about our rant!! We cannot believe how lucky we all were to all receive several toys each plus tons of Christmas cookies and chews. We know that you realize that some of us have enjoyed your Christmas gifts here at the Rescue for several years now and we also know that the Rescue will be the forever home for some of us. But because of you, we all do believe that dreams can come true. You made this Christmas special for all the homeless dogs at the Rescue!! We greatly appreciate all you have done for us again this year.

Santa, please let all the wonderful people who donated to support the Rescue throughout the year, as well as this holiday season, know how much we appreciate them. Without their generosity the Rescue would not have been able to afford to save many of us. We don't want anyone to think we do not appreciate what they do for us, because without them, there would be no Rescue for us and the many dogs to come in 2021.

Hugs and Slobbers and Love from
All the dogs at HHGDR


All images and text on this site Copyright © 1998-2021 Harlequin Haven Great Dane Rescue, Inc. unless otherwise credited. Use of any image or text without written permission is expressly forbidden. All rights reserved.