Our Letter to Santa
From the homeless dogs at Rescue
Dear Santa,
We hope that the cold weather at the North Pole and the magic of your workshop has kept all of you safe from the pandemic this year. And we bet Mrs. Claus is making sure you get your vitamins. Our humans and our visitors are still following their safety protocol.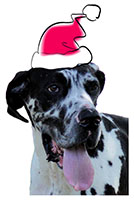 Thank you for all the wonderful toys and tasty treats that we found when we woke up last Christmas! We were so excited! You make us homeless dogs feel very special. You and your elves know, Santa, that Mrs. Claus makes really yummy treats. They come in so many different flavors and in so many different sizes that there are treats and biscuits for every dog's liking. Grandma always leaves a treat and biscuits in our bowls when we come in from outside and our volunteers use them as they help us socialize and learn manners. Some of the dogs who come to Harlequin Haven have rarely had special treats nor the assortment of toys that you put in our stockings. Your elves did an awesome job of selecting toys for all our needs. There were hard toys to clean our teeth, like bones and antlers, hard rubber toys to exercise our chewing muscles, and soft toys to snuggle when we go to bed. Your elves even matched the toys to our sizes, so Truck's toys were not too big for his mouth and Ty's toys were big enough so he wouldn't swallow them and choke. Grandma says that you are really smart and give us size appropriate toys because you know that finding the right toys is safer for us and cheaper than surgery! You even remember our pint-sized pals who sometimes stay with us.
Of course, Santa, you know that more than anything our Christmas wish is for a forever home with a family who will love us and take care of us just like Grandma does. We also know that we all won't be that lucky, especially our Seniors and less than perfect pals. The impact of the pandemic continues to cause many dogs to be abandoned, some with illnesses or injuries their families couldn't treat. We know firsthand how generous your heart is, Santa, and we don't want to be greedy. We always appreciate anything you choose for us. Because some dogs need weight management, green beans are added to their meals to help fill them up without adding weight. Some over the counter medications and nutraceuticals help our joints, digestion, and skin. Grandma says that even though she tries to have everything that a new dog at Harlequin Haven might need, she sometimes ends up having to shop for special items like salves for injuries or healing surgical wounds. And there's also gauze, tape...and the list goes on. Like your elves, Grandma is very good at finding just what she needs to help us so if you can, Santa, would you also include some gift cards in our stockings? We promise not to chew then up. And to save your elves time our surprises donít need to be wrapped.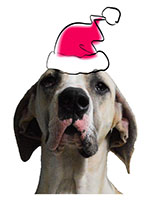 Thank you very much, Santa, for reading our letter this year. We sure hope you can bring us each a toy for Christmas. Of course, two would be great, but one each for all the adoptable and sanctuary dogs at HHGDR would be fantastic and give us all joy this holiday season. We promise to have Grandma and the volunteers scoop our play yard, so you wonít get dog poo on your boots when you step out of your sleigh.
Since we will be asleep when you come, we will add this ahead of timeÖ
Merry Christmas, Santa!!!
Hugs, Slobbers, and love from all the VERY GOOD dogs at HHGDR
Toys

Elk Antlers (see link below)

JW Pet: iSqueak Funble Footballs (large)

Kong: Kong, Tugga Wubbas/ Rope Tugga Wubbas/ Wubbas (large/XL)

Tough By Nature: Good Cuz/ Bad Cuz (large)

Tough By Nature: JW Bowling Pins (large)

Tough By Nature: Ruffians Octopus, Fish, Frog, or Chicken (large)

Made in the USA Toy Sources


* http://www.toysmadeinamerica.com/dogs.html

* http://www.purrfectplay.com/

* http://www.westpawdesign.com/articles/-west-paw-story/who-made-it

* http://www.mickeyspetsupplies.com/Made-in-USA-pet-supplies-s/118.htm

* http://www.elkantlerdogchews.com/Buy_Elk_Antler_Dog_Chews.php

Happy Holidays from all of us at Harlequin Haven
All images and text on this site Copyright © 1998-2022 Harlequin Haven Great Dane Rescue, Inc. unless otherwise credited. Use of any image or text without written permission is expressly forbidden. All rights reserved.