Our Letter to Santa
From the homeless dogs at Rescue
Dear Santa,
Since your workshop at the North Pole is magical, we hope that you, Mrs. Claus, and all your elves have stayed safe during this pandemic. We also hope you have not had a shortage of needed supplies for making toys and baking treats!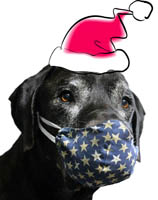 We see how things are here in Ohio, and know that Grandma and our volunteers worry when we cannot find some of the items we rely onólike green beans for those of us who need to control our weight, and over the counter medications and nutraceuticals.
Being homeless without a real family we are always excited to experience the feeling of waking up on Christmas morning with Christmas surprises like toys and treats. Your elves are incredibly good at finding toys that are just the right size for us and equally strong, so that they will last for more than a few weeks and Grandma wonít have to worry about us eating them and causing a blockage. Size appropriate toys are cheaper than surgery!
And please donít forget our pint-sized pals either, putting a few smaller sized toys and treats in your sack. Mrs. Clausís treats are YUM!! Besides being delicious, they are also good for helping us focus during training. We are so grateful for your generosity! Grandma and our volunteers are always telling us that we are very good dogs, so we hope you see that note next to our names on your list.
The toys you brought us last Christmas are well loved and well worn. And some of us have never known what itís like to have toys. As you know, Santa, Truck spent his earlier life fending for himself at a truck stop relying on the kindness of strangers. And itís very likely that Wynter was a puppy mill dog.
Those of us that once had a home and the love of a family hope to feel Christmas morning excitement all over again. We know you have a generous heart, Santa, so our paws are crossed. Santa, you know that, as orphans, our first wish is always to find forever homes, we are also smart enough to know that not all of us will find a forever home this year, especially the senior or less than perfect dogs among us who are often overlooked.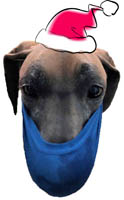 And this year, the impact of the pandemic has caused more dogs to be abandoned and they join us with medical conditions their owners couldnít afford to treat. We will be thankful for anything you bring us. Grandma tells us it is not polite to beg or be greedy. We have heard volunteers talking about sending money or gift cards to their grandkids because they are not sure what to buy them and we have learned to shop on the internet, so if itís easier, we love to shop on the internet! We also promise not to drool too much on Grandmaís keyboard this year.
Thank you very much, Santa, for reading our letter this year. We sure hope you can bring us each a toy for Christmas. Of course, two would be great, but one each for all the adoptable and sanctuary dogs at HHGDR would be fantastic and give us all joy this holiday season. We promise to have Grandma and the volunteers scoop our play yard, so you wonít get dog poo on your boots when you step out of your sleigh.
Have a Happy Holiday!
PS Santa, please don't worry about wrapping our gifts, itís just is more work for your elves and Grandma. After all, we care about our planet and the global warming we keep hearing about.
Hugs, Slobbers, and love from all the VERY GOOD dogs at HHGDR
Toys

Elk Antlers (see link below)

JW Pet: iSqueak Funble Footballs (large)

Kong: Kong, Tugga Wubbas/ Rope Tugga Wubbas/ Wubbas (large/XL)

Tough By Nature: Good Cuz/ Bad Cuz (large)

Tough By Nature: JW Bowling Pins (large)

Tough By Nature: Ruffians Octopus, Fish, Frog, or Chicken (large)

Made in the USA Toy Sources


* http://www.toysmadeinamerica.com/dogs.html

* http://www.purrfectplay.com/

* http://www.westpawdesign.com/articles/-west-paw-story/who-made-it

* http://www.mickeyspetsupplies.com/Made-in-USA-pet-supplies-s/118.htm

* http://www.elkantlerdogchews.com/Buy_Elk_Antler_Dog_Chews.php

Happy Holidays from all of us at Harlequin Haven
All images and text on this site Copyright © 1998-2021 Harlequin Haven Great Dane Rescue, Inc. unless otherwise credited. Use of any image or text without written permission is expressly forbidden. All rights reserved.