Our Letter to Santa
From the homeless dogs at Rescue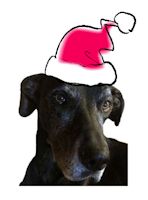 Dear Santa,
Well we are back again this year in hopes that your elves made lots of toys and Mrs. Claus baked lots of treats so there will be lots of toys and yummy treats left over for homeless dogs like us. Grandma and the volunteers are always telling us what good dogs we are, and we are grateful for your generosity every Christmas!
The toys you brought us last Christmas are well loved and well worn. And what dog wouldn't want an extra treat or 2? Treats are also good for training and help us pay attention. We know you have a generous heart, Santa, so our paws are crossed, and we are hoping that we will find some new toys from our wish lists Christmas morning.
Santa, you know that our first wish is always to find forever homes, especially for the senior dogs among us who are often overlooked. But in addition to being very good dogs, we are also smart and know that all of us will not find a forever home this year.
So, being realistic as well as very good dogs, we would like toys that can last us a few weeks and not cause Grandma to worry about us eating them and causing a blockage. As you know, Santa, from bringing us size appropriate toys in the past, we are very big and strong chewers. And toys are cheaper than surgery!
You also know, Santa, we are orphans, and we will be thankful for anything you bring us. As Grandma tells us, it is not polite to beg or be greedy. We have heard volunteers talking about sending money or gift cards to their grandchildren because they are not sure what to buy them and we have learned to shop on the internet, so if it's easier …we love to shop on the internet!! We promise not to drool too much on Grandma's keyboard this year.
Thank you very much, Santa, for reading our letter again this year. We sure hope you can bring us each a toy for Christmas. Of course, two would be great, but one each for all the adoptable and sanctuary dogs at HHGDR would be fantastic and give us all joy this holiday season. And we promise to have Grandma and the volunteers scoop our play yard, so you won't get dog poo on your boots when you step out of your sleigh.
Have a Happy Holiday!
PS Santa, please don't bother wrapping our gifts, that is more work for your elves and Grandma. After all, we care about our planet and the global warming we keep hearing about.
Hugs, Slobbers, and love from all the VERY GOOD dogs at HHGDR
Toys

Elk Antlers (see link below)
JW Pet: iSqueak Funble Footballs (large)
Kong: Tugga Wubbas/ Rope Tugga Wubbas/ Wubbas (large/XL)
Tough By Nature: Good Cuz/ Bad Cuz (large)
Tough By Nature: JW Bowling Pins (large)
Tough By Nature: Ruffians Octopus, Fish, Frog, or Chicken (large)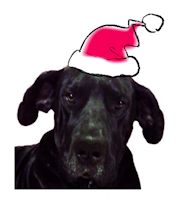 Made in the USA Toy Sources
* http://www.toysmadeinamerica.com/dogs.html
* http://www.purrfectplay.com/
* http://www.westpawdesign.com/articles/-west-paw-story/who-made-it
* http://www.mickeyspetsupplies.com/Made-in-USA-pet-supplies-s/118.htm
*
http://www.elkantlerdogchews.com/Buy_Elk_Antler_Dog_Chews.php
Happy Holidays from all of us at Harlequin Haven

All images and text on this site Copyright © 1998-2020 Harlequin Haven Great Dane Rescue, Inc. unless otherwise credited. Use of any image or text without written permission is expressly forbidden. All rights reserved.