Our Letter to Santa
From the homeless dogs at Rescue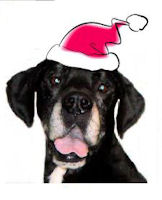 Dear Santa,
All of us here at Harlequin Haven hope that you have had a great year and we as always are hoping to receive forever homes before the year ends. Every year you ask who has been naughty and nice. I am again writing for all of us here at the rescue, they told me I could be the spokesdog. I promise we have been really, really, really good this year. Okay, sometimes we push and shove one another to get in the door first on rainy or cold days or dinner time. Yes, maybe just once, we didnít come when we were called, BUT in all fairness several are deaf or hearing impaired.
Overlooking those minor things, I promise we have been good this year. We get letters and emails from our brothers and sisters in forever homes. They tell us how wonderful their lives are and what great toys they get from their new Mommies and Daddies.
We havenít found our forever homes, yet. Grandma is great, she and other volunteers do everything they can for us. However, it is still really hard especially this time of year.
We have made a wish list, it would be really great if you could get us a couple of things for Christmas, we hate to beg but we would so love to have a few new toys.
Elk Antlers (large or mammoth please)
Hartz Dura Play Football Dog Toy (large please)
Kyjen Plush Puppies Hard Boiled Softies (large please)
JW Pet iSqueak Funble Footballs (large please)
Tough By Nature JW Bowling Pins (large please)
Tough By Nature Good Cuz or Bad Cuz (large please)
Tough By Nature Ruffians Octopus, Fish, Frog or Chicken (large only please)
Natural Beef Bones (extra large please)

Kongs (extra large please)
Tugga Wubbas or Wubbas (large or XL)
I know you are busy. If you want help finding or picking out gifts Grandma is always more than happy to help and give you a hand. If you are looking for the perfect place to find gifts here are some suggestions:
http://www.toysmadeinamerica.com/dogs.html
http://www.katiesbumpers.com/index.htm
http://www.mickeyspetsupplies.com/Made-in-USA-pet-supplies-s/118.htm
http://www.purrfectplay.com/index.php
http://www.westpawdesign.com/articles/-west-paw-story/who-made-it
http://www.elkantlerdogchews.com/Buy_Elk_Antler_Dog_Chews.php

Santa, many of the young healthy Danes are getting adopted, their mentors and elders are watching as they leave. As much as we love seeing them leave, it is so hard. It would be great if you could think about the young handicapped and yes the older ones that are here, they too deserve a loving home. Maybe you have just the right home and are looking for some extra love and companionship!
Mozart
P.S. We appreciate every gift sent by you Santa, but unfortunately we don't have opposable thumbs so me and my siblings can't open presents. We and the trees would be more grateful if you kept your wrapping paper for the humans.
Thank you so much for reading our letter, we wish you all happy holidays from all of us at HHGDR.
Have a Happy Holiday
Hugs and Slobbers
All the dogs at HHGDR
All images and text on this site Copyright © 1998-2019 Harlequin Haven Great Dane Rescue, Inc. unless otherwise credited. Use of any image or text without written permission is expressly forbidden. All rights reserved.