Jeremiah - ADOPTED
ADOPTED: I have found my forever home!! My new mom and dad are the best and we are going to do all kinds of things together!! My dreams have come true!!

My new forever mom & dad!!! It is love!!
Click here for more pictures
Before Pictures & My Story Below
I was bred and sold by a backyard breeder in California and then dumped to fend for myself when I was just 8 months old. I was saved from a horrible life dodging cars and scavenging for food by the Salinas Animal Services. When my stray time was up Big Dog Rescue in Penngrove, CA. came for me. Unfortunately no one was overly interested in me at the time.
In June 2011 a man came from Ohio he was the director for the Humane Society of Delaware County and claimed to also train dogs to be therapy dogs. He told them he needed Danes because of our size and ease of reaching the people lying in hospital beds. Well to make a long story short he convinced the rescue to let him have me and 6 other Danes to bring back to Ohio. At first life was good he took me to work and showed me off and then one day he placed me up for adoption. A man named Jason from Georgetown, OH adopted me. Well to say it went downhill from there is putting it mildly. I lived with Jason for a while then I was given to Gary who gave me to a woman with horses and then to April and finally I ended up at Animal Rescue Fund in Amelia. My last owner April had called Harlequin Haven but before they could get back with her she decided I had to go and drove me to ARF. Shortly after I arrived at ARF, arrangements were made for HHGDR to come for me.
The first picture below is when I was at Big Dog Rescue the others are me now.
I am now ready for adoption!!
Update June 17: Since Grandma was taking pictures I decided to get some new ones taken too!! Besides I was outside playing and it started to rain so I decided to come in till the rain stops!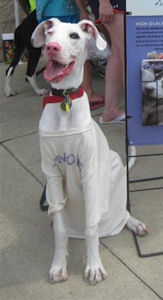 Then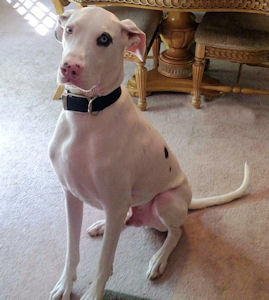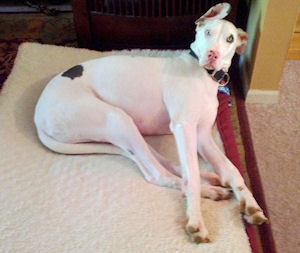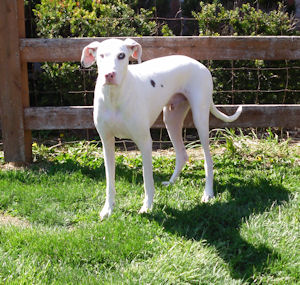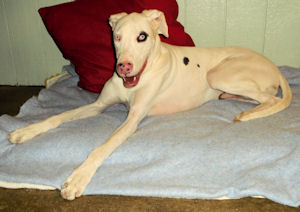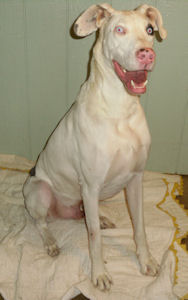 6/17
Date of Birth: 11/2009
Description: male, lightly marked harlequin, blue eyes, natural ears.

All images and text on this site Copyright © 1998-2018 Harlequin Haven Great Dane Rescue, Inc. unless otherwise credited. Use of any image or text without written permission is expressly forbidden. All rights reserved.