Sonny - Sanctuary
I came to the rescue in early June and was caught trying to dig my way under the fence. Grandma at the rescue was not happy with the huge hole I had dug and immediately called the Animal Shelter to come for me. My owner was called and they came an got me and took me back home. On June 15th I was back at the rescue trying to dig my way under the fence again. This time I had waited till the animal shelter was closed so Grandma could not call them right away. When she saw me almost get hit by a car and of course the huge hole I had dug she let me in and told me I could stay the weekend but on Monday I would have to go back to the shelter. I worked really hard all weekend showing Grandma how good I could be, I did not dig a hole or nothing!! I showed her that I really am a good boy I just want a home where I will be loved!! On Monday morning the Shelter was again called and I again went to the shelter. The shelter called my owner and my owner said he would come for me well after 16 days and many empty promises the Shelter called HHGDR and let Grandma know that my owner did not bother to come for me. I was lucky because I had proven to Grandma that I was a good boy and that I did not deserve to die. Grandma dropped what she was doing and came right up and got me.
I am NOW looking for a forever home that will love me for the intelligent and sweet boy I am!! I listen very well and only want to please. All I ask in return is for my owner to love me and want me as much as I will love them!!
After looking for a forever home for years I have decided the rescue is my forever home, where my family and friends are!! I love Grandma and Grandpa and would hate to move!! They said they love me too so this is my home!!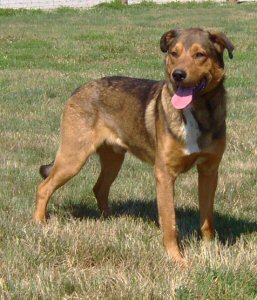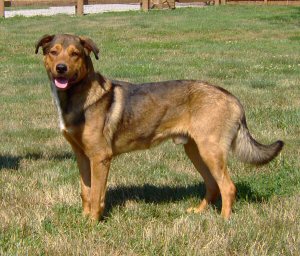 Date of Birth: 6/2006
Description: Male, Shepherd mix, Tan - black markings
All images and text on this site Copyright © 1998-2018 Harlequin Haven Great Dane Rescue, Inc. unless otherwise credited. Use of any image or text without written permission is expressly forbidden. All rights reserved.