Graysen - Sanctuary
I have had so many homes that I can't remember them all. I remember I had 1 owner, we lived in Columbia, Maryland and he was in the military and was deployed overseas and then I went to live in Indianapolis, Indiana but that too did not last long, I had a couple more homes but for just brief periods of time. Unfortunately no one really wanted me so I finally ended up in the Preble County Humane Society and they contacted Harlequin Haven Great Dane Rescue to come for me.
Grandma here at the rescue has promised me that I will not bounce from home to home any more!! I will find a true forever home, but not till I am ready!! Right now I am just expected to be a puppy and play with my new toys and friends!!
Update: I am NOW ready for adoption!!! I will have my baer hearing test on this coming Friday but Grandma said I could change my status!!! I am a very sweet and loving boy and due to my handicaps I must have a hearing dog in my forever home.
Update: I went for my test Friday and I have unilateral hearing loss - I can only hear out of my right ear. DARN!! Guess now when Grandma calls my name I have to pay attention!!
Update: I am still waiting for my forever home so I decided if you seen how handsome I have become it might help me find my forever home.
Update 11/21: Well I got news today and although it is bad in other ways it isn't!! I have inoperable wobblers, which is bad. BUT I will live the rest of my life here with Grandma and Grandpa! That is good cause now I won't have to worry about finding a forever home cause I already have it!!
Please can you spare a few dollars to help the Rescue continue to help me and other Danes like me? It would be greatly appreciated. Without the Rescue who knows where we would have ended up!!
Thanks, Graysen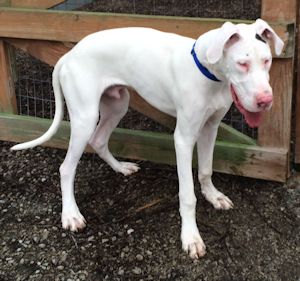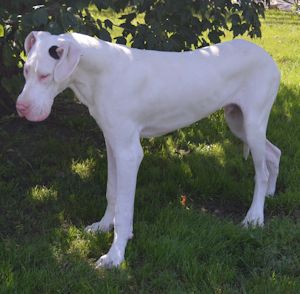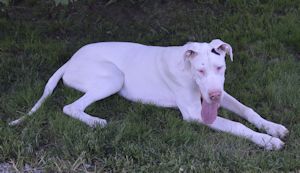 8/1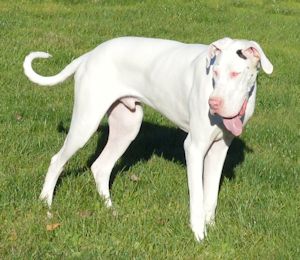 11/14

Date of Birth: 11/2/2014
Description: male, white with black marks, natural ears
unilateral hearing loss & sight impaired & wobblers

All images and text on this site Copyright © 1998-2018 Harlequin Haven Great Dane Rescue, Inc. unless otherwise credited. Use of any image or text without written permission is expressly forbidden. All rights reserved.