Xavier
Interested in adopting me? Click here for our >> AdoptionProcedures
The police contacted the Circle Area Humane Society in Pickaway County about a dog abandoned in a home. When the humane society arrived they found me, the story is that my owner had to be out by September 17th she had already moved but had left me in the house alone. The humane society quickly noticed the open lesions on both my rear paws and let her know of their concerns. Click here> pictures of my paws. My owner claimed that she had been treating my paws and that I had been seen by a vet. The humane society contacted Harlequin Haven Great Dane Rescue to see if they had room for me and they said yes!! A couple of days later at my owner's convenience I was released to HHGDR. When HHGDR contacted my vet they found out the last time I had been seen was in 2006 for fleas!! Needless to say HHGDR was horrified that I had been suffering and had no medical attention. My paws hurt so badly I could barely walk! Upon arrival to HHGDR medical treatment was started and I was given medicine for my pain.
Update September 23: My paws are slowly healing, Grandma says it is going to take time!! Today some of the other Danes were getting their pictures taken so I asked if I could add a couple of new ones too!! Check them out below!!
Update November 4: Sorry I have not updated you lately on my progess but it has been slow! My left paw is healed and my right is almost healed actually it would have been healed but it started itching and I chewed on it sooooooo it is not quite healed yet! I am trying very hard when it starts itching not to chew it but that is really, really hard!! Grandma does tell me that I am a really great boy and that when my paw is healed I will make someone a great Great Dane!! Of course I knew that!!!
Update January 31: Well I had many set backs but hopefully in the next few weeks my paw will be 100% healed. I am also learning to not chew my paw so that it stays healed and I do not have to go through this again. I have been neutered so it is just a matter of hopefully a few more weeks.
Please can you spare a few dollars to help the Rescue continue to help me and other Danes like me? It would be greatly appreciated. Without the Rescue who knows where we would have ended up!!
Thanks, Xavier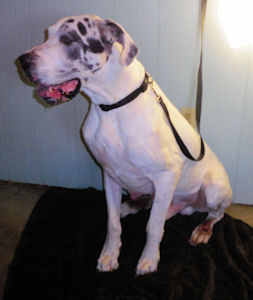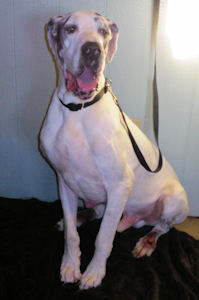 9/8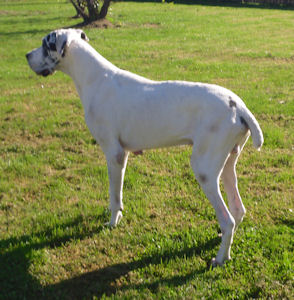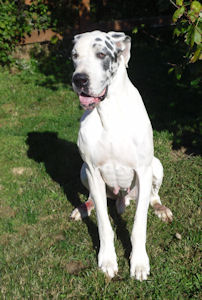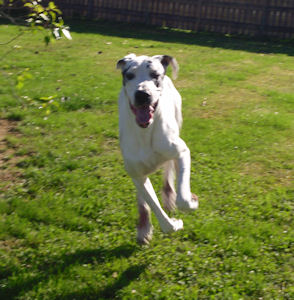 9/23
Not ready at this time!!
Date of Birth: 6/15/2005
Description: male, lightly marked harlequin, natural ears, docked tail
HHGDR Suggests: Obedience Class, crate
Good With: Dogs, Adults, Children, Cats

All images and text on this site Copyright © 1998-2014 Harlequin Haven Great Dane Rescue, Inc. unless otherwise credited. Use of any image or text without written permission is expressly forbidden. All rights reserved.