Paisley

Interested in adopting me? Click here for our >> Adoption Procedures
Please do not submit an application until I am evaluated and ready for adoption.

I was dumped in Martens Park in Lancaster, and left to fend for myself!! I was terrified and hungry when this nice man showed up and started giving me bunches of yummy food!! When he ran out he actually went and bought more for me!! Then 2 other men showed up and they built this fence thing and well when the nice man put food in the fence thingy I had to go get the food and well the rest is history!! He caught me and they took me to the Farifield County Animal Shelter where I had to wait a stray hold!! That made no sense to me after all my owner dumped me and never looked back and HEY I have not had a great life as you can tell by my body and coat condition. But they said it is the law and it was not up to me! As soon as my stray time was up the shelter called Harlequin Haven Great Dane Rescue to come for me and a few hours later I was enroute to the rescue!! When I arrived at the rescue I was given a nice soft bed, tons of toys and best of all food, life is good!! I am now being fed 4 times a day!! Ya know a gal can get used to this life!!

I want to thank Don with Lost Pet Recovery that fed me all the McD's, all the people at the Fairfield County Animal Shelter and the nice lady (Bethany) that picked me up and brought me to the rescue! Without all of you I would still be out trying to fend for myself!!

Please can you spare a few dollars to help the Rescue continue to help me and other Danes like me? It would be greatly appreciated. Without the Rescue who knows where we would have ended up!! Thanks, Paisley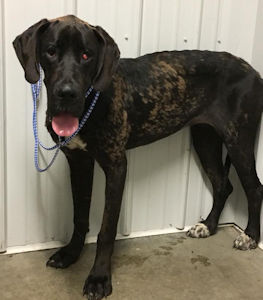 Picture above courtesy of Fairfield County Animal Shelter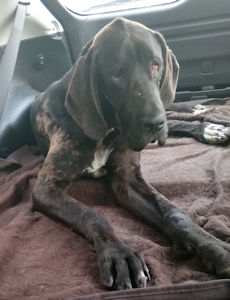 Picture above courtesy of Bethany - my ride to the rescue
Not ready at this time!!
A must to read before picking your forever Dane!
Black is Beautiful
Date of Birth: 1/2018
Description: female, black with white marks, natural ears
HHGDR Suggests: Obedience Class, crate
Good With: Dogs, Cats, Adults, NO Small Children

All images and text on this site Copyright © 1998-2018 Harlequin Haven Great Dane Rescue, Inc. unless otherwise credited. Use of any image or text without written permission is expressly forbidden. All rights reserved.