Ian
Pronounced "EE-ən"
Interested in adopting me? Click here for our >> Adoption Procedures
My owners brought me to Harlequin Haven when I became too much for them. They did not know I was deaf when the purchased me. After my owners realized I couldn't hear, they contacted the breeder who told them she would refund half of their money and then euthanize me. That was unthinkable to my owners and they tried to make it work. However, with no fenced yard and 2 small children in the home, one just starting to crawl, it was just too much.
Now at Harlequin Haven, I have lots of new friends and more toys than I ever imagined! Life is good!! I just hope Santa finds me here!! The other dogs told me not to worry, but since this will be my first Christmas I don't want to miss out!!
Update: I am now ready for adoption!!!
Update 8/14: Well a lot has happened recently!! My right eye looked bloodshot so Grandma took me to see an ophthalmologist he used a bunch of fancy words but the bottom line is I was blind in my right eye from birth and it needed to be removed! I was glad he told her cause I was sure tired of getting eye medicine put in all the time!! My stitches have been removed and I am doing great!!! As soon as it cools off outside Grandma said we will all get some new pictures!!!
Update 11/20: Sorry for the delay check out my new pictures below!! I showed you my serious side and my fun loving and playful side!!
Update 12/9: We got some Christmas presents and I wanted to show some of my gifts from Secret Santa!! Check out my new pictures below. But I will admit although the presents are great I really wanted a new mommy and or daddy for Christmas at least I got extra snuggles and kisses along with the new toys!! Oh well maybe in 2018!!
Please can you spare a few dollars to help the Rescue continue to help me and other Danes like me? It would be greatly appreciated. Without the Rescue who knows where we would have ended up!!
Thanks, Ian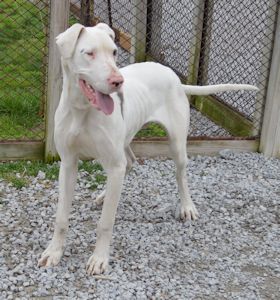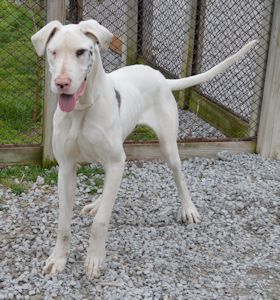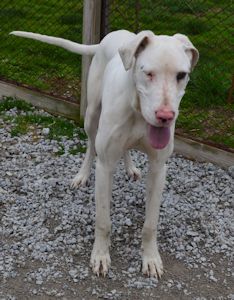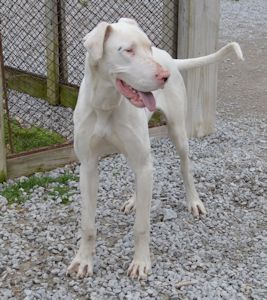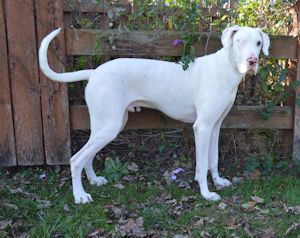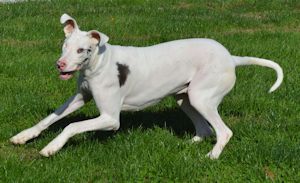 11/5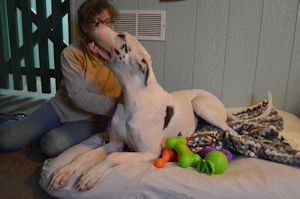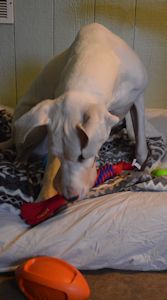 12/9
Date of Birth: 2/23/2015
Description: male, white black marks, natural ears - deaf and sight impaired
HHGDR Suggests: Obedience Class, crate, Must have hearing dog in home
Good With: Dogs, Cats, Adults, Children

All images and text on this site Copyright © 1998-2018 Harlequin Haven Great Dane Rescue, Inc. unless otherwise credited. Use of any image or text without written permission is expressly forbidden. All rights reserved.