Baden
Interested in adopting me? Click here for our >> AdoptionProcedures
I was dumped on the busy streets of Butler County and was taken to the Animal Friends Humane Society!! Most dogs think going to the animal shelter is the worst thing that can happen to them but it was the best thing for me!! After I arrived and served my stray time they contacted Harlequin Haven, then the wonderful volunteers from Harlequin Haven picked me up they took me directly to their vet.
As you can see from the pictures below I have not been fed properly I weigh ony 94 pounds and I have not been given medical care! My paws are 3 times larger then they should be due to infection. The vet is running cultures to make sure that my treatment is done correctly but he believes I have a severe fungal infection.
When I arrived at the rescue I was given a really soft bed, tons of toys and dinner!! I am so happy!!!
Update January 31: Just thought I would give you a quick update! My paws are healing nicely they are no longer swollen and the sores are healing fairly quickly. I will be on antibiotics for several more weeks to make sure all the infection is gone. Also, I forgot to let you all know the test all came back negative for fungal infection. In the mean time I am enjoying life!! I have tons of toys but my favorite is the Hard Boiled Softie Hedgehog!! Grandma thought one day she could fool me by giving me a Hard Boiled Softie Sheep but I would not touch it and I just pouted till I got my Hedgehog back!! Yep I am getting spoiled!!! Well it is getting to be dinner time so I gotta go get ready!! I am never late for dinner!
Please can you spare a few dollars to help the Rescue continue to help me and other Danes like me? It would be greatly appreciated. Without the Rescue who knows where we would have ended up!!
Thanks, Baden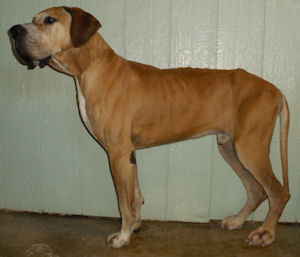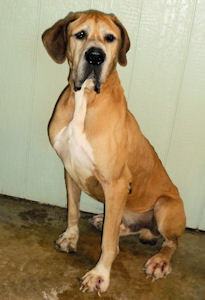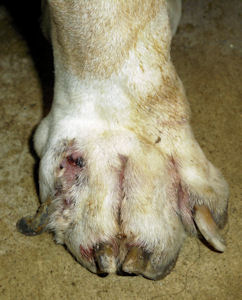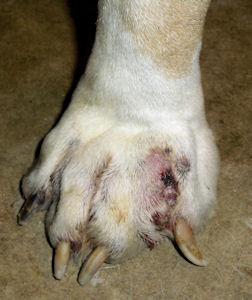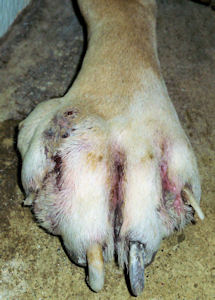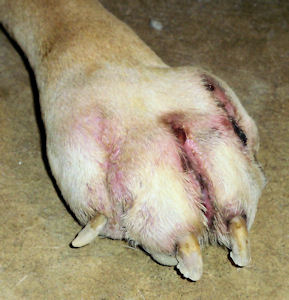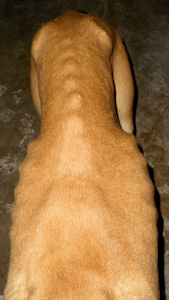 Not ready at this time!!
Date of Birth: 1/2008
Description: male, fawn with white marks, natural ears
HHGDR Suggests: Obedience Class
Good With: Dogs, Adults, Children, Cats

All images and text on this site Copyright © 1998-2014 Harlequin Haven Great Dane Rescue, Inc. unless otherwise credited. Use of any image or text without written permission is expressly forbidden. All rights reserved.